Career Bio

Certainly considered one of the best female marathoners in US history, Kim Jones could also be included in a list of the country's top 5 marathoners, male or female. Throughout her career Kim has been one of the most dominant distance runners in the world. She has more high level placings in world class marathons than any other US female marathoner in history with 17 performances under 2:33. She and Joan Samuelson are the only two Americans to run 2:30 or faster 5 times.

Kim's experience as a marathoner is unrivaled and her ability to coach that event extends from the beginning level to world class. She is also uniquely qualified to work with people struggling with asthma and allergy issues as she has herself successfully overcome asthma problems to become a world class runner. Kim also has extensive knowledge and training in nutrition.

During her career as a marathoner Kim has trained with and learned from some of the best runners in the world (Steve Jones, Rob DeCastella, Benji Durden, and Mark Plattjes, Colleen DeReuck, to name just a few). Her coaching experience began during her career when she was asked to coach beginning, local marathoners. Since that time she's successfully helped numerous runners to pr's at various distances and spent two seasons working with high school cross country runners in Spokane, Washington.
Fastest Marathon Performances
2:26:40 Boston '91 (2nd)
2:27:50 Berlin '91 (2nd)
2:27:54 New York City '89 (2nd)
2:29:34 Boston '89 (3rd)
2:30:00 Boston '93 (2nd)
*** Plus 12 other performances under 2:33
Personal Bests
Distance
Time
Mile Pace
5K
15:43 ('96)
5:03
10K
32:23 ('89), 32:48 ('97)
5:12, 5:16
15K
50:09 ('88), 50:20 ('95)
5:22, 5:23
Half Marathon
1:11:34 ('88)
5:27
25K
1:26:54 ('97)
5:35
30K
1:47:41 (US record)
5:46
20M
1:55:29 (US record)
5:46
Marathon
2:26:40 ('91), 2:31 ('97, at age 39)
5:35, 5:45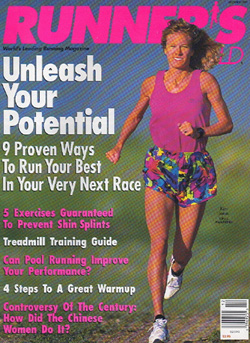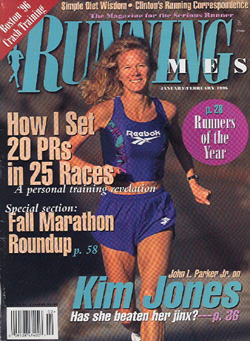 Accomplishments
Ranked 3rd in the World in the marathon (1989)
8th place finisher at the Stuttgart World Championships (1993)
Member of the Road Runners Club of America Hall of Fame
17 races 2:33 or faster, most by an American woman (Joan Benoit Samuelson 9; Lisa Weidenbach 7)
27 Career Marathons
Fastest- 2:26:40 (Boston '91)
Slowest- 2:51:21 (New York '01)
Average time for the first 25 marathons- 2:33:04
Average place for the first 25 marathons- 4.1